Innisfree IT'S REAL SQUEEZE MASK 16 Types * 3 sheets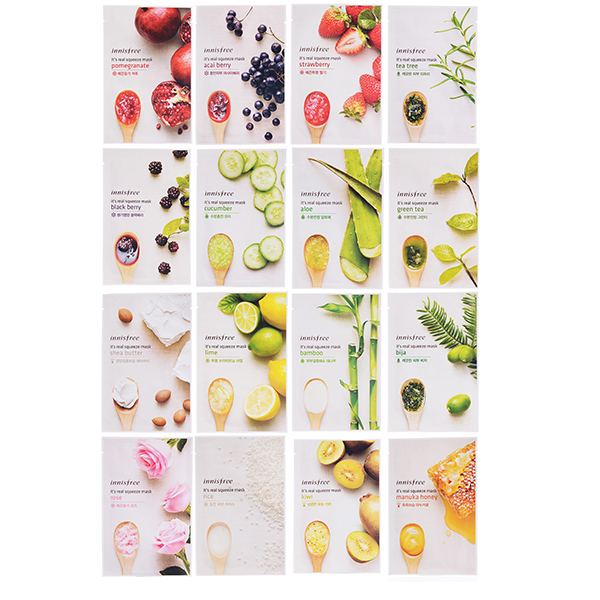 Features

* Green tea - Green tea extract hydrates from inside of the skin, giving skin clarity.

* Cucumber - Natural cucumber brings your skin clarity and vitality.

* Bamboo - Since the ancient time, bamboo water is good moisturizing ingredient, the solution for a thirst skin.

* Aloe - Aloe extract relaxes and moisturizes the skin.
* Manuka Honey - Manuka Honey of Manuka tree blossom which is in a clean area of New Zealand is very nutrious and makes your skin healthy.

* Kiwi - It makes your skin clear and bright.
* Shea butter - Shea butter, Fruit extract form shea tree make your dry skin shiny.

* Acai berry - Acai berry is very nutritous, it makes your skin healthy with Jeju green complex

* Pomegranate - Pomegranate that the Persians have enjoyed has been called "a fruit of life", a "king of fruit". It brings your skin glow.
* Black berry - Super black berry food is great protector of the skin and makes your skin healthy.

* Tea Tree - Tea tree, which has pungent smell is great ingredient for skin from old times.
* Bija - Since ancient times, annatto was brought before the King and was a valuable material.

* Lime - It brings clarity and transparency of the skin with a power of lime contained.

* Strawberry - Sweet and sour strawberry makes soft and clear skin.
* Rose - Contained fragrant moisture of rose extract moisturizes and makes your skin smooth.
Detail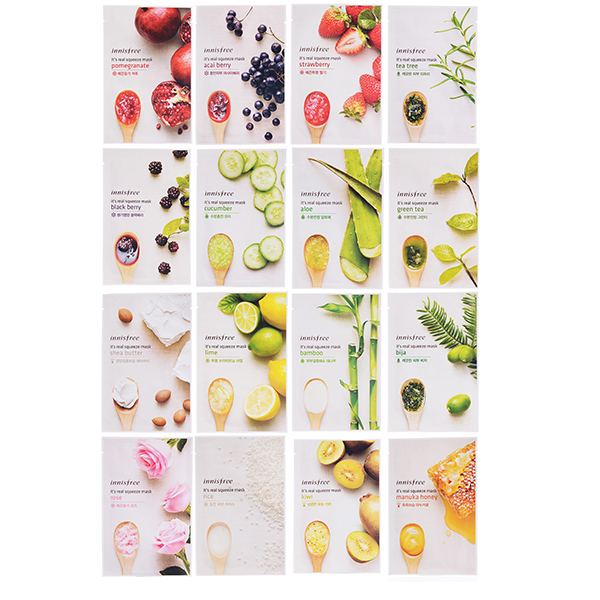 How to use
1. After cleaning and toner, apply it on your face correctly avoiding eyes and mouth.
2. After 10~20 minutes, remove the sheet.
3. Tap for absorption of residual essence.
Producto Info.
Brand : Innisfree
All Skin Types
Volume : 20ml *3
Made in Korea
Ingredients
none